Respiratory Protection
Disposable Face Mask 3 ply with Ear Loop - 50 Masks per Box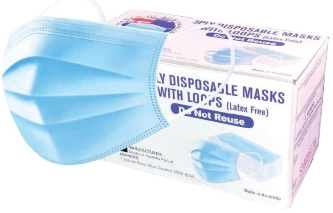 Price Per Box (Inc GST)
40 Boxes per Carton
---
Product Description
PROUDLY MADE IN AUSTRALIA
SOLD AS BOXES OF 50 MASKS
Instructions:
1. Spread out the mask evenly and divide the mask into two pieces. The side strap is hung on the ear.
2. Fix the nose bridge strip according to the nose shape
3. Please pull the mask to your chin, immediately present three dimensional call suction space.
Description
1. The three-in-one central non-woven fabric is made of inorganic antibacterial materials. Can play an antibacterial and deodorizing role.
2. Melting compression method is adopted, and the dust removal rate reaches more than 95%
3. Soft, comfortable and non-irratating
4. High quality polypropylene non-woven fabric, three-layer thickening protection design
5. Made of sensitive materials